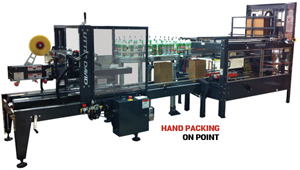 Integrated Case Packaging Systems
The Loveshaw PackPoint is just one of the complete case packaging solutions Fastrak offers. It features a rugged, automatic case erector. The erector opens the flat corrugated cases, closes the bottom flaps, then seals the bottom with 2" or 3" tape before moving erected cases to an accumulating conveyor.

The operator populates the case with product plus any packing material and, triggers the conveyor to move the case into the automatic case sealer. The case sealer automatically closes and seals all top flaps with tape.

This case packaging system is easily enhanced with ink jet coding or automatic labeling, producing a ready to ship product, economically.
Need to improve your packaging productivity with limited floor space and a tight budget? Fastrak can put together an integrated case packaging solution that meet the toughest requirements!

© Fastrak 2018. All rights reserved.