Ink Jet Case Coders



MicroJet® by Loveshaw, the unique, self contained large character ink jet coders set the standard for ease of use and rugged dependability. They're designed to easily mount to Little David® case sealers for a complete taping and coding system.



MicroJet® models feature:

UL listed for operator safety
enclosed 1 liter ink supply with optional 5 liter external supply
LCD display and easy on board message set up
low ink warning light
built in case sensor
over 100 message storage areas with stored print parameters for each message
automatic date, time and up to 39 characters per line
high speed valves
Check out the popular MicroJet® HRP, the latest in high resolution, state of art, cartridge ink jet technology. Print up to 10 lines of .1 - 1" print from your PC or portable controller. No mess, thermal ink technology with rugged, compact construction. Call for a demo today!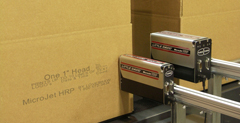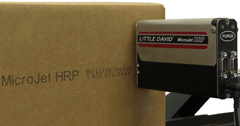 © Fastrak 2018. All rights reserved.